Topical Collection: Advancements in hydrogeological knowledge of Haiti for recovery and development
Colección temática: Avances en el conocimiento hidrogeológico de Haití Para su recuperación y desarrollo
Collection thématique: Avancées dans la connaissance hydrogéologique d'Haïti pour la reprise et le développement
Coleção Tópica: Avanços no conhecimento hidrogeológico do Haiti Para recuperação e desenvolvimento
Haiti's groundwater resources are poorly understood and scarcely researched, despite their importance as the principal source for water supply. The knowledge gap and its role of inhibiting informed relief, recovery and investments in development are described, along with an update on progress towards the UN Sustainable Development Goals. This essay leads a topical collection of seven articles that advance hydrogeological knowledge of Haiti. Additional data, research and monitoring are identified as urgently needed for the nation's sustainable development. Keywords Water security • Groundwater development • Groundwater management • Groundwater and society • Haiti This article is part of the topical collection "Advancements in hydrogeological knowledge of Haiti for recovery and development" * James K.
Resumen Los recursos hídricos subterráneos de Haití son poco conocidos y apenas investigados, a pesar de su importancia como fuente principal de suministro de agua. Se describen las deficiencias en el conocimiento y su papel de obstáculo para el suministro de información, la recuperación y las inversiones en el desarrollo, junto con una actualización del progreso hacia los Objetivos de Desarrollo Sostenible de la ONU. Este ensayo encabeza una colección temática de siete artículos que hacen avanzar el conocimiento hidrogeológico de Haití. Se identifican los datos, la investigación y el monitoreo adicionales que se necesitan con urgencia para el desarrollo sostenible de la nación.
Résumé Les ressources en eaux souterraines en Haïti sont mal comprises et font rarement l'objet de recherches, malgré leur importance en tant que principale source d'approvisionnement en eau. Le manque de connaissances et son caractère d'inhibition d'aides, de relance et d'investissements dans le développement sont décrits, ainsi qu'une mise à jour des avancées de la mise en œuvre des objectifs de développement durable des Nations Unies. Cet essai introduit une collection thématique de sept articles qui font progresser les connaissances hydrogéologiques d'Haïti. Des données, des recherches et un suivi supplémentaires sont identifiés comme étant urgemment nécessaires pour le développement durable de la nation.
Resumo Os recursos hídricos subterrâneos do Haiti são pouco conhecidos e pouco pesquisados, apesar de sua importância como principal fonte de abastecimento de água. A lacuna de conhecimento e seu papel de inibir ajuda informada, recuperação e investimentos em desenvolvimento são descritos, juntamente com uma atualização sobre o progresso em direção aos Objetivos de Desenvolvimento Sustentável da ONU. Este ensaio lidera uma coleção tópica de sete artigos que promovem o conhecimento hidrogeológico do Haiti. Dados adicionais, pesquisa e monitoramento são identificados como urgentemente necessários para o desenvolvimento sustentável da nação.
Fichier principal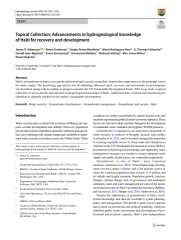 s10040-022-02518-0.pdf (1.13 Mo)
Télécharger le fichier
Origin : Publication funded by an institution