Retro-scénarios de dommages sismiques à partir du cas de l'Aquila en Italie
This article is concerned with attempting to " predict " (hindcast) the damage caused by the L " Aquila 2009 earthquake (Mw 6.3) and, more generally, with the question of how close predicted damage can ever be to observations. This work has been published by Douglas et al. (2015). One of the focuses of this work was to work in " a priori " condition (like damage scenarios done during the crisis), it means, using information that was available before the earthquake and assuming the same event characteristics as the L " Aquila mainshock. The overall damage estimated by these simulations is reasonably well predicted but there are considerable differences in the damage pattern. Other simulations incorporate aftershock observed/measured data: macroseismic intensities, PGA and PGV measured in the sector, building type distribution in L " Aquila historical center, habitability assessment and soil effects. Despite some improvement in the predicted damage, in particularly by the modification of the vulnerability indices and the parameter influencing the width of the damage distribution, these hindcasts do not match all the details of the observations. At this scale of work it is impossible to consider individual building mechanical parameters. To increase the number of observations available to make these adjustments, we encourage the collection of damage states (and not just habitability classes) following earthquakes and also the installation of dense strong-motion networks in built-up areas.
Cette étude s' intéresse à la tentative de «prédire» les dommages (simulation rétrospective) causés par le tremblement de terre de L'Aquila en 2009 (Mw 6.3) et, plus généralement, s " interroger sur les efforts pour caler des modèles d " estimations de dommages et des données provenant des observations des cas réels. Dans ce travail on a travaillé avec des méthodes empiriques basées sur des indices de vulnérabilité et les classes macrosismique (EMS98). Ce travail a été publié par Douglas et al. (2015). Un des objectifs de ce travail a été de travailler dans des conditions dites « a priori », où seulement des informations disponibles avant le séisme sont utilisées, c " est à dire, une distribution moyenne des types d " habitat en Italie et leur vulnérabilité et des relations d " atténuation pour simuler l " évènement. Ces simulations correspondent à celles qu " auraient pu être faites « à chaud » pendant la crise pour estimer l " ampleur de l " évènement. Ces résultats sont globalement cohérents ou acceptables mais des fortes différences peuvent apparaitre localement. D " autres simulations incorporent petit à petit des éléments observées/mesurés après le séisme : l " intensité observée, les accélérations et vitesse maximales (PGA et PGV) enregistrés par les stations sur le secteur, la distribution typologique de la ville ancienne de l " Aquila, les diagnostics d " habitabilité et les effets de site lithologiques. Cette donnée « a posteriori » améliore le modèle d " estimation de dégâts et notamment la courbe de distribution des dommages mais ne reflète toujours pas toutes les variations locales observées. Ce travail montre aussi les limites pour une validation des simulations, à cette échelle de travail il n " est pas possible considérer les caractéristiques mécaniques de chaque immeuble. Pour des travaux futurs nous encourageons la collecte systématique des dommages observés (et pas que les états d " habitabilité) et densifier le réseau d " observations sur les zones fortement peuplées.
Fichier principal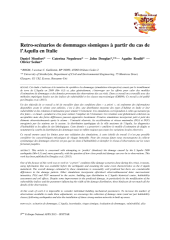 Monfort et al. AFPS2015 L'Aquila.pdfx.pdf (709.29 Ko)
Télécharger le fichier
Origin : Files produced by the author(s)