Development of a macroseismic intensity database for all French communities.
Etablissement d'une base de données des intensités historiques extrapolées pour toutes les communes françaises.
Public information on major risks is a civil right in France. It is, therefore, important to provide data on the exposure of the citizen to seismic risk, notably by providing information on historical seismicity. BRGM is, therefore, developing a database providing the macroseismic intensities that are estimated to have occurred in every French community during historical earthquakes but for which insufficient documentary proof is currently available within SisFrance (www.sisfrance.net, BRGM/IRSN/EDF). A macroseismic intensity is assessed for every community either based on documentary information for that location (SisFrance) or via spatial interpolation. This development firstly consisted of a feasibility study for the creation of such a database by using the statistical technique known as kriging. Following this, methodological improvements were made and the procedure was automated and applied to all of the earthquakes in SisFrance (both for mainland and overseas communities). Maps generated for some events are shown here as a validation of the procedure and the developed tools. Finally, the database of communal intensities has been structured and a tool created to facilitate the publication of these results via a cartographic server on a website.
L'information des citoyens sur les risques majeurs est un droit et il est ainsi important de mettre à disposition des données sur l'exposition d'un territoire vis-à-vis du risque sismique, notamment sur la sismicité historique. Le BRGM a ainsi mis en place une base de données permettant de faire état de niveaux d'intensités présumés qui seraient occasionnés par des séismes historiques, pour les communes qui sont actuellement insuffisamment documentées dans SisFrance (www.sisfrance.net, BRGM/IRSN/EDF). A chaque commune du territoire des évènements sismiques historiques sont associés avec un niveau d'intensité ressenti (SisFrance) ou présumé (interpolation). Cette étude a consisté à étudier la faisabilité d'une telle base de données, à valider l'utilisation d'un code de calcul réalisant des interpolations des intensités observées à l'aide d'une technique de krigeage. Ensuite des développements méthodologiques ont été apportés et la procédure de calcul a été automatisée et appliquée pour tous les séismes de la base de données SisFrance (métropole et DROM-COM). Des cartes ont été automatiquement générées pour quelques événements sélectionnés et permettent de valider la procédure et les outils mis en place. Enfin une base de données communale des intensités extrapolées est structurée et un outil est développé pour faciliter la mise à disposition des résultats obtenus via un serveur cartographique sur un site internet.
Fichier principal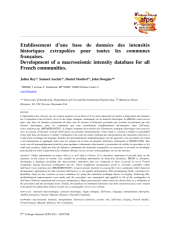 Article_AFPS2015_intensités_interpolées_SisFrance.pdf (852.06 Ko)
Télécharger le fichier
Origin : Files produced by the author(s)