Microzonages sismiques en Haïti : Comparaison des spectres de réponse spécifiques et des spectres forfaitaires du code IBC
It is Haiti's ambition to put in place a national building code, the CNBH, based on the International Building Code (IBC) with a soil classification and amplification coefficients Fa and Fv following the NEHRP recommendations. Seismic microzonations carried out in 5 of the most exposed cities in Haiti have allowed the characterization of 73 soil columns covering a range of VS 30 values between 140 and 750 m/s. Comparing the obtained Fa and Fv factors with the recommended IBC factors shows notable differences, with much higher Fa values than recommended by the IBC in many cases. The engineering rock depth is relatively shallow, which could explain the high Fa values encountered. The calculations take soil nonlinearity into account. Earthquake-resistant design following IBC seems inadequate for these cities, making the resulting microzonation spectra even more necessary. However, sensitivity studies on the nonlinearity parameters and the depth of the engineering rock layer are necessary to confirm these results.
Haïti cherche à mettre en place un code national de construction, le CNBH, qui s'appuie sur le code international IBC avec une classification des sols et des coefficients d'amplifications Fa et Fv suivant les recommandations NEHRP. Des microzonages sismiques effectués sur 5 des villes les plus exposées d'Haïti ont permis de caractériser 73 colonnes de sol couvrant une gamme de VS 30 de 140 à 750 m/s. La comparaison des facteurs Fa, Fv obtenus et ceux recommandés par l'IBC montrent des différences notables avec Fa beaucoup plus fort que pour l'IBC dans de nombreux cas. Le substratum sismique est relativement peu profond, ce qui peut expliquer les valeurs Fa élevées trouvées. Les calculs prennent en compte un comportement non-linéaire des sols. Le dimensionnement sismique selon le code IBC semble inadapté pour ces villes, ce qui rend la prise en compte des spectres des microzonages encore plus nécessaire. Des études de sensibilité sur les paramètres de non linéarité et la profondeur du substratum sont souhaitables pour confirmer ces résultats.
Fichier principal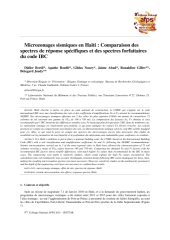 2015_Bertil-et-al_AFPS2015_HaitiMZ_67586.pdf (705.81 Ko)
Télécharger le fichier
Origin : Files produced by the author(s)