Outils de réponse rapide pour la gestion opérationnelle de crises sismiques
Experience of past earthquakes as well as "earthquake" civil-protection's exercises underlines the need for crisis managers to have at their disposal rapid-response tools able to assess consequences caused by earthquakes, even for moderate events. BRGM and its partners have developed tools to meet these operational needs, in order to automatically and quickly produce maps of seismic ground-motions, as well as sectorized assessments of damages. To go further in taking account operational requirements related to the management of seismic crisis, work is being done in order to provide the authorities with a quick assessment of the human tolls that may control their actions, structured within reports dedicated to civil-protection teams. Exploratory tracks are also being considered in order to enrich the information feedback from the field by using techniques of "crowd-sourcing", thanks to the use of distributed "citizen" sensors or of social-networks.
L'expérience acquise après séismes ainsi que dans le cadre d'exercices « séisme » de sécurité-civile montre que les gestionnaires de crise ont besoin de disposer d'outils pour identifier rapidement l'ampleur des conséquences occasionnées, y-compris dans le cas d'évènements modérés. Le BRGM et ses partenaires ont mis en place des outils visant à répondre à ces besoins opérationnels, permettant notamment la cartographie rapide et automatique de l'ampleur des secousses sismiques, ainsi que l'estimation sectorisée des dommages. Afin d'aller encore plus loin dans la prise en compte des besoins opérationnels liés à la gestion de crise sismique, des travaux sont menés dans le but de fournir aux autorités une évaluation rapide de bilans essentiels au dimensionnement de leur réponse opérationnelle, structurée selon des communiqués directement appropriables par les services concernés. Des pistes exploratoires sont par ailleurs à l'étude dans le but d'enrichir la remontée d'information terrain en ayant recours aux techniques de « crowd-sourcing », par la mobilisation de capteurs « citoyens » distribués ou par l'usage des réseaux sociaux.
Fichier principal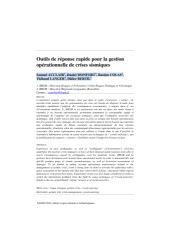 Auclair et al. 2014 - SAGEO.pdf (495.69 Ko)
Télécharger le fichier
Origin : Files produced by the author(s)