Vulnerability of water resources to global change in Mediterranean region - The Vulcain project. Closure project report.
Vulnérabilité des ressources en eau au changement global en zone méditerranéenne - Le projet Vulcain. Compte-rendu de fin de projet
The Mediterranean region has been pointed out as a « hot spot » in terms of climate change, with severe warming and precipitations decrease. Moreover, the intense population growth rate will probably deepen its water resources structural deficit. In the future, the water scarcity level will depend on both the withdrawals and the climate evolution. The VULCAIN project proposes a method to analyze and compare the climate and socio-economic change impacts on the water resources of the Pyrénées Orientales department (figure 1). Future climate and drinking/agricultural water use scenarios have been built and their impact on the water resources of the study zone was characterized and compared, with a description of the associated uncertainties. The results allowed the vulnerability characterization based on future water resources to water use budget. The main issues of the vulnerability of the studied territory have been identified, which are currently integrated by the water managers to structure their adaptation strategies.
La région méditerranéenne est considérée comme un « hot spot » du changement climatique, affectée par une poursuite du réchauffement et une diminution des précipitations. Par ailleurs, le rapide accroissement démographique observé risque d'aggraver son déficit structurel en termes de ressource en eau. Dans le futur, le niveau de rareté de l'eau devrait dépendre à la fois de l'évolution des prélèvements et du climat. Le projet VULCAIN propose une méthode d'étude et de comparaison des impacts du changement climatique et socio-économique sur les ressources en eau sur le département des Pyrénées Orientales (figure 1). Après avoir élaboré des scénarios de climat et d'évolution des usages eau potable et agricoles, leur impact sur les ressources en eau du territoire a été caractérisé à l'aide de modèles et comparé, en veillant à identifier les sources d'incertitudes qui leur sont associées. Les résultats ont permis de caractériser la vulnérabilité en se basant sur un bilan entre ressources et usages futurs. Ce travail a permis d'identifier les enjeux en termes de vulnérabilité sur le territoire étudié et d'alimenter les structures de gestion pour leur réflexion en termes de stratégies d'adaptation.
Fichier principal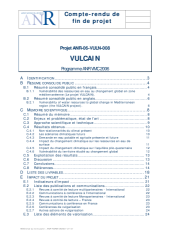 Compte-rendu_final_VULCAIN_adiffuser_UK_FR.pdf (572.98 Ko)
Télécharger le fichier
Origin : Files produced by the author(s)